Morocco's Oasis Festival is arguably the most on-point/high-end electronic music festival in the MENA region today. Launched three years ago, the festival quickly amassed praise from festival goers, artists and publications from around the globe. 
The first edition in 2015 was applauded for its encompassing roster of artists that truly represented different movements within the scene, from established and near-legendary names to up and comers that were making their presence known wherever they performed. Certainly the lineup wasn't Oasis' only strong-suit.
The festival is also acclaimed by its choice of location and nearly flawless experience. It started out at the majestic Fellah Hotel in Marrakech in 2015 before moving to the nearby The Source Marrakech, which Oasis would call home for the coming two years. Now it's official; the dates for 2018 have been locked in for September 14th-16th, and the first wave of artists has been announced. However, the location remains under wraps for the time being. 
One can tell right away by a brief comparison of lineups over the years that Oasis' approach to booking has been slowly evolving to match that of bigger festivals in Europe and elsewhere. It has gone from founding the festival on names that were neither too exalted nor too obscure for the average goers, to slowly being able to secure bigger names and infinitely more unsung and underground musicians.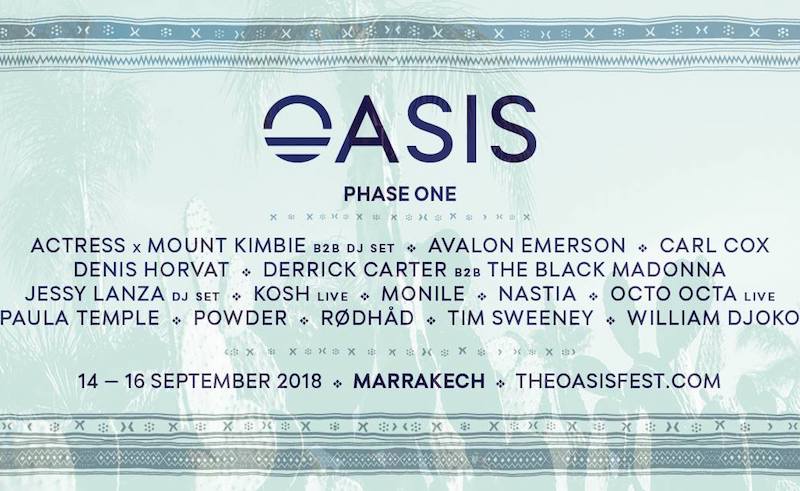 On top of that lineup is of course the ever-so glorified Carl Cox, perhaps their "biggest" headliner to date, seconded only by Richie Hawtin last year. More big festival staples like Nastia, The Black Madonna b2b Derrick Carter and Rødhåd have also been revealed, which again, all count as indicators for the rise in the festival's ability to attract household names. 
Moreover, a much needed appearance from Avalon Emerson in the region is finally around the corner. R&S Record's Paula Temple is also flying out to unleash some grinding techno on Marrakech. The roster so far also features pleasant and out of the box surprises like Actress b2b Mount Kimbie, Octa Octa, Jessy Lanza who will certainly be providing a different soundtrack than the rest of the lineup. Not to mention NYC DJ, Beats In Space host and undeniably one of the most exciting selectors of our generation - Tim Sweeney. 
Danish Afterlife artist Denis Horvat and Strictly Rhythm's newest superstar William Djoko are also set to make appearance, however it's hard to tell how Horvat's melodic house sound fits in with this lineup, at least with the artists announced so far. Representing the festival's home turf will be Barcelona-based DJ Monile and a local by the name of Kosh. A second wave of artists will reveal itself as the gathering nears, and will almost certainly feature more surprises, locals and something special from Amine K and the Moroko Loko crew. 
Follow Oasis Festival on Facebook and Instagram
Check out some of the Oasis Festival sets on their Soundcloud.