When UAE residents come to think of a night out, they're faced with the dilemma of finding an event that allows them to let loose completely and find a venue that allows them to focus on the music, or a party that isn't layered with some sort of socioeconomic showiness. 
Ask anyone you know there and they'll tell you that even though the Emirates are a modern day metropolis, finding a party that embraces diversity and flaunts a certain unity within its crowd is still something hard to come by. The success of nightlife there is still very much dependent on the bottle service, the VIP treatment and the needless extravagancy of the tiniest details. 
When Hassan Alwan and Shadi Megallaa returned to Abu Dhabi in 2010 and started throwing events, lttle did they know that they would be setting up one of the UAE's most authentic, no frills party series. Now as Hassan continues to run Boogie Box, he is invested heavily in the bookings he makes, and managed to start a record label with releases from artists around the globe, above all striving to maintain and preserve the party's unique, laid back soul.
To celebrate seven years of kick-ass events and quality music, Boogie Box are inviting the legendary UK DJ/producer and Rekids founder Matt Edwards better known to most as Radio Slave. Matt needs no introductions, with a career spanning nearly three decades and releases on R&S, Ostgut Ton and Running Back and regular gigs at Rex Club and Panorama Bar, the Boogie Box patron crowd is up for a treat. 
We got in touch with DJ/founder Hassan Alwan himself ahead of his return to the decks at the anniversary party to hear about how it all started, the challenges he faced, his favorite moments and how he sees the scene growing in Abu Dhabi. 
What spawned the idea of creating Boogie Box?  
Shadi Megallaa and I had just moved back from Zurich and London. We moved back to a city that was home to us as kids, but that we had been away from for a very long time. We came back to Abu Dhabi and the UAE, and were bored. We were hungry for an outlet. Out of that boredom and hunger, Boogie Box was born. 
What did you find lacking in the Abu Dhabi scene that you set out on fulfilling yourself with Boogie Box? 
Well, there was no spot or home for like minded people. And we got fed up. We just wanted to play records and share it with people who were just as lost as were. 
Do you remember the first Boogie Box events? Tell us about them.  
Oh I remember it very clearly. Improvised, half assed sound systems and the wrong venues. The crowd was always there though, and thats what motivated us to keep growing and pushing.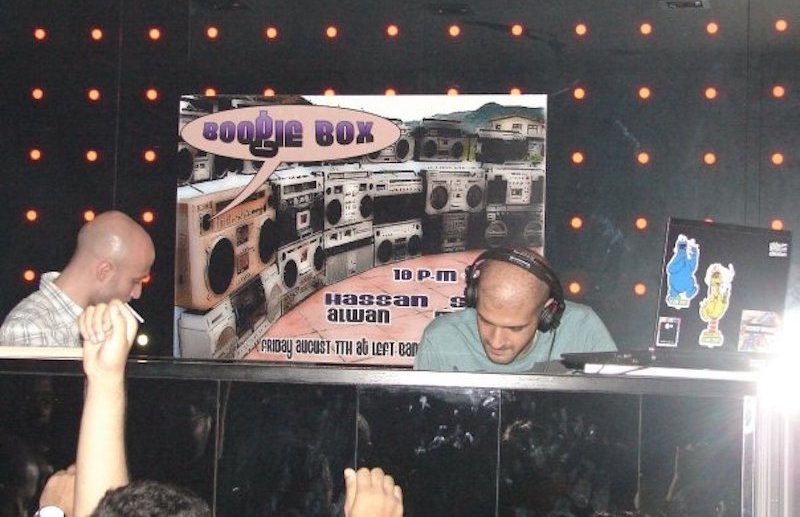 Tell us about some of the challenges that you faced while starting out. Do you still face any today? 
Finding the right venue was always the challenge. We had an idea in mind, in terms of what our spot should look, sound and feel like. But it took a very long time for us to find a spot or spots that we could mould into something we could call a home. Today our challenges are different. These days, all the clubs out there that were making money out of some pop genre, got a whiff or taste of what commercializing house and techno could do, and now we see a city like Dubai hosting mega parties on a weekly basis with the sole purpose of selling tables, tickets and drinks. 
Thats not the real challenge, the real challenge is that we have a generation of people growing up to "house and techno" in an environment that its sole purpose is to extract money from you. This younger generation are now associating house and techno with lavish bottle service and social media hyped parties that are the furthest thing away from what the music was meant to be. I don't think thats a problem just in our region. Its something we're seeing in the wider context of our music scene.
Now seven years old, can share with us some of the milestones Boogie Box have reached? 
Milestones sound so official. I still cant believe that we've been going on for this long.
What are some of your favorite moments as founder? 
Tough one. Boddika making a rare appearance and playing at a rooftop party for us; it started raining midway but nobody flinched. He had us glued to the floor. 
When did the idea of becoming a record label come along? 
It was never really planned. It just sort of happened. I was (and still am) buying records regularly, and there was a a music direction that I thought needed more representation. 
Do you think there are other promoters who are thriving off of what Boogie Box helped establish in Abu Dhabi? 
Yeah for sure. We've always encouraged people to push the scene here, as long as you do it with good intensions. Do it from the heart, and you'll succeed.
Anyone in particular that you would to give a shout out to for helping Boogie Box become the party/record label that it is today? 
First and foremost is our Boogie Box family. The people that come in week in and week out, that come in for no other reason than to let loose, be themselves, listen to music and shoot the shit. And of course, our Boogie Box crew. The guys behind the scene who works their asses off to make it all happen. You know who you are.
Main image by 
Andrea Projemo