Known for their power and excellence in anything they do, the Pharaohs left the world wondering about their magic. Aside from the pyramids, they were also known to be one of the first civilizations to play music with sculptures in their temple of them playing the harp. In our modern world, there's still one last standing Pharaoh, coming from the small Italian city of Tuscany. His releases can be heard on a variety of record labels that range from small vinyl only to huge techno labels such as Drumcode and everything in between. He's known to be a friend of Marco Carola too. When we first heard the news that Marco Faraone was playing Egypt, we couldn't miss it and caught up with him ahead of his show.
How did you get into music production? I know your father is a DJ, did he teach you anything?
I started DJing fifteen years ago, when I was fourteen. At first, I didn't know what to play. I didn't even know house and techno in the beginning. I come from a small city in Tuscany which is 70 kilometers from Florence. Since the town was really small we didn't have a big music scene especially for techno. They were just some hip hop and commercial parties. I discovered house and techno a few years later when I turned 18. I fell in love, I was like WOW this is the music I want to play. My friends were playing football or video games, and I was playing music. Electronic music was something strange in my city, it wasn't natural for my age to do that kind of stuff. They played video games and I played with Reason and Cubase. I wanted to play something unique coming from myself. I started producing when I was 18 and my first record came out around 2006.
My father was a music selector for a local radio, he used to pick the weekly top ten. When I started DJing I had some small back catalogue of records from my father, who is still my biggest fan. I never felt I had barriers to do what I wanted, as my dad was always supportive. At the time I wasn't academically inclined, and my father always told me: "you're good in music Marco, follow your passion." I probably will share the same passion with my kids. It's the Faraone generation taking over.
How did you see the scene evolve since you first started, what do you like and dislike about this change?
I'm not a music guru, I'm only 29. But the only thing that changed in the scene is the introduction of social media, and it kind of ruined the meaning of music. I often hear many people saying "'I'm going to see Marco Faraone", you don't go to see a DJ, you listen to him. The figure of the DJ became kind of like the rockstar's. People go to see the show and everyone holds their phones to take videos of the DJ. They don't close their eyes and listen to the music anymore. I started at the end of the good time. People now want to see the DJ's private life, pictures and how many likes does he get. Music is not about likes, it's about experiencing something. In a way, more people discover the music but at the same time they get far from it. It's a weird situation.
Releasing a vinyl only EP after releasing on Drumcode seems like going from a "mainstream" area to a more underground one. Are you shifting towards this direction?
I like to do everything. I don't want to put barriers around my music. This is why my label is called Uncage, that means free expression to the music. It's a very important word for me. Drumcode is a massive label, so they seek a massive big sound. But of course I also love to play many styles even house. I like to do mainstream because when you play in big festivals you play for the mainstream crowd, so you need a mainstream sound, and Drumcode is the biggest expression of power for the music. When I want to do something that has more of a small room intimate vibe, I release it either on my label or on re:kids.
How did you come up with the idea of your latest EP Stage Capture?
I used the drum machine in my studio. You can check my tutorial for this on Youtube. Basically I recorded my voice in a sampler and mangled it. Stage capture doesn't have any crazy sounds, it's a raw track, a typical techno tool. I don't really know how the idea came to me, I was just jamming and talking bullshit in the microphone. It only took me two days to finish it. The idea came fast and all the sounds were fitting together.
In Stage Capture there's a track called "Modular Day", are you into modular synthesizers or is this just a name?
I love modular synthesizers and I have a Doepfer. 90% of my tracks are produced analog. It's a process I really like because I can always jam with the analog stuff and create sounds that I won't be able to do in the box. I also think it's more interactive, you touch something and a crazy sound comes up. My two favorite synthesizers are the Moog Voyager and the Roland SH101.
Techno, especially this type, lacks musicality and is more about sound design and manipulation, the tracks might seem empty with no "MAIN" element, but when you listen more carefully you'll find a lot of minimal things happening that construct a groove. What are your thoughts about this?
People who feel there's nothing in techno just don't understand it. It's all about this loop that keeps going and the more it repeats itself, the more you get into it. It's hypnotizing. Some people feel techno is full of sounds, while others don't think so. What I think is that electronic music is really complex, many people think it's just noise, but it's not: it's a specific sound for a specific crowd.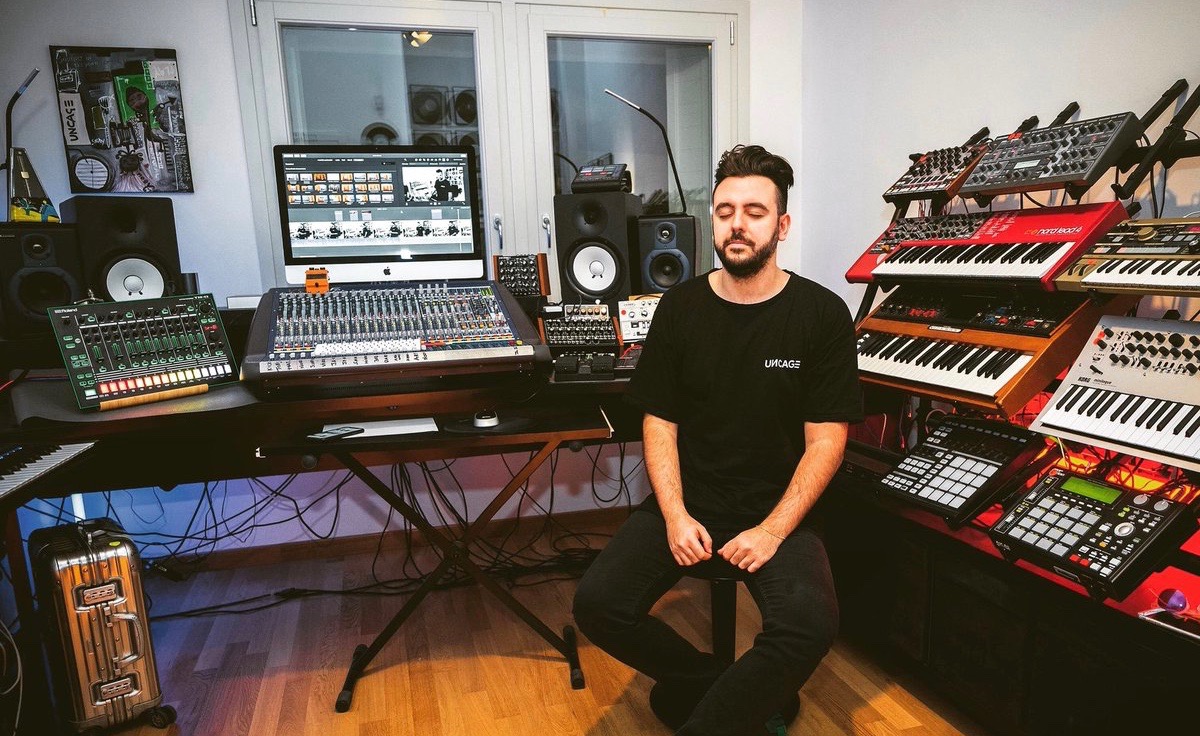 What were your initial reactions when you got booked for one of Cairo's underground events? Did you think that there was a scene like this before coming to Cairo?
We have a club in Italy called Coccorico, a legendary club. It's very famous because of its big glass pyramid. When the sun comes up it's like daytime inside. When I was young everyone kept telling me the Faraone has to play in the pyramid, and I played there a few years later - it was crazy. It was magical to get a request in the city where the real pyramids are. I feel very related to my name, I really love my name and it's very special for me. When I started DJing I didn't think I had to change my name because Faraone was already artistic. It's my first time to come play in Cairo and I'm really excited. I hear the scene here is growing very nicely and electronic music is becoming more familiar to people. So I really hope people will get more educated.
What are your personal ambitions in 2018?
My main goal is to keep running my label and build up a roster of artists that I really like. My label is my real message, it's what I really like in music. When I release something on it it's something I really love. This is why we release in a very slow pace. I also want to bring some legends on the label like Robert Hood, one of my favorite producers. It's about time, inspiration, and sometimes luck.
Pre-order his upcoming EP Solar Shade on Beatport.