A little over a year and a half ago, Elias Merheb, better known to his fans as 3LIAS or Stamina, met up with Ziad Sarrouh aka Future Noir to buy a synthesizer. Lucky for us and every electronic music enthusiast in the region, 3LIAS would end up spending that entire day in Ziad's studio, and in a purely organic and unexpected turn of events, Atomic Circus would emerge.
Ziad Sarrouh is a classically trained pianist and multi-instrumentalist turned proud metal head. Since '88, he has helped form and join several bands like The Strangers and Cedra. 3LIAS on the other hand has had a celebrated DJ career, starting out under the alias Stamina, serving as a resident for Beirut's clubbing Parthenon - B018. As a producer, he went on to release music on some A-list labels like Bedrock, Selador and Parquet to name a few.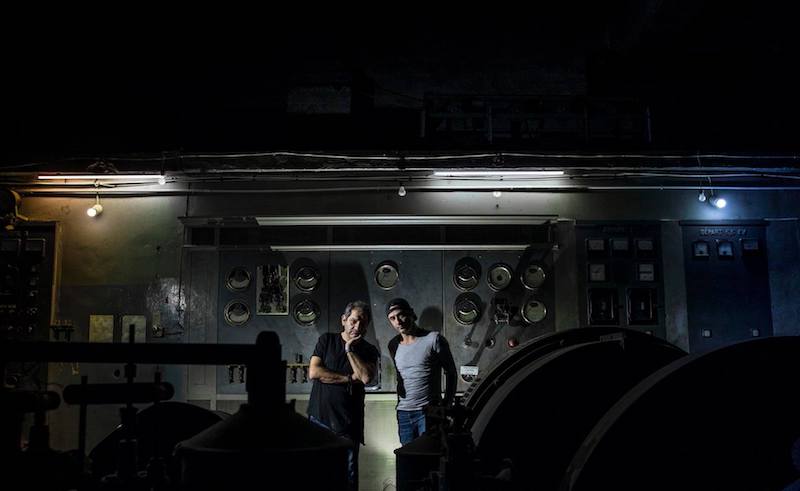 Sarrouh had little to no contact with dance music until he met Merheb. "I was converted by Elias to an electronic music guy." Ziad jokes. The duo's live performances have gone on to take the Lebanese nightlife by storm with highly lauded performances at The Notch in Faqra, Beirut Open Space and The Grand Factory's little sister - Reunion. 
Until January 20th, Atomic Circus had no recorded audio or video performances, just the small video snippets they post to Facebook while rehearsing for their gigs. But finally they've been tapped by the newly found Railway Station TV to tape one of their sets at a hydraulic power plant (yes, a functioning one) in the city of Zahlé in the Lebanese province of Beqaa. And while the performance is mainly improvised, it manages to sound effortlessly brilliant nonetheless.
Ziad was kind enough to provide us with the complete technical breakdown of their live setup and how they utilize it. "First of all, we wanted to devise a system that was tailor made to fit our two different musical personalities." he starts out. "I'm a classically trained musician, Elias is a DJ. We both react to sound in different ways and both have different reflexes and skill sets when facing the same situation."
Atomic Circus live duties can be split into two main branches of work - rhythmic, which is mainly Merheb's task, and melodic which is handled by Sarrouh. Ziad will trigger midi sequences - that serve as the foundation for each track in the set - from his Akai MPC Live, into an Access Virus TI synthesizer. These are in turn sent into the Soundcraft Signature 22 MTK mixer which can be labeled as the duo's 'combined section', "We use our mixer as an instrument, spending a lot of time next to each other, hands on faders and knobs, fading out sounds as others fade in. It's like a four hands dance we're performing together."
The same MPC is also controlled by an external midi keyboard, allowing him to create variations of the existing parts, or create new ones like an improvised bass line or any other individual element played by the sequencer, adding more complexity or turning a track around entirely. In parallel to this first sequencer setup, Sarrouh is in charge of another keyboard oriented rig, also mainly used for live improvisation.
The synthesizer line-up includes Roland VR-09 (paired with a Boss RC-505 looper) and a Roland System-1 mainly for solos. Ziad uses the VR-09 to emulate the almighty Hammond organ and the Rhodes electric piano, as he hails from a rock and blues musical background where the organ has a predominant sound. As for the electric piano section, it allows the addition of an organic layer over the purely electronic sound.
"Elias's main duty, besides being the rhythm guy, is to create the drama and tension during the set. He handles the buildups, breakdowns, or filters the entire output and mutes entire sections. Whatever he does directly reflects on how I play, and whatever I play directly reflects on where he takes the track." Merheb handles a Roland TR-8 drum machine mimicking the sounds of the 808 and 909 alongside the Roland TB-3 bass. This setup is also paired with two effects units made by a company called Electrix and a Pioneer RMX-500.
Follow Atomic Circus on Facebook for more updates.
Follow 3LIAS on Facebook and Soundcloud. 
Photo Credits: Railway Station TV