If you (somehow) find yourself seated on the matted floors of the Sayeda Zeinab Mosque on a Tuesday, you'll catch about five hadraa performances throughout the day. Likewise, you'll catch the same performances at Ali Zain Al-Abdein Mosque on Saturday, and the same goes for Monday at the Emam Mosque, Sunday at the Sayeda Nafeesa Mosque and Friday at the Hussein Mosque. It's not exactly an uncommon occurrence, but a spectacle all the same.
It's a common ritual for folks to sit in a circle in a mosque courtyard and recite the Qur'an, some religious hymns and sayings, all in an innately musical manner. So it was only a matter of a time for those same pious talents to venture out into the material world and try to join their God-given talent with their love of a higher power, and bring it out on stage. It was at that point in time that Alhadra was born; a Sufi music ensemble made up of various ages and backgrounds, dedicated to bringing their craft (and creed) into the spotlight. "It started when I was blessed to attend a hadraa performance at the Sayeda Zeinab Mosque; it was my first time seeing and hearing one," said the ensemble's founder, Nour Nageh, going on to say how "haadra wasn't just a performance like any other; it's an invitation for God's light to fill your heart."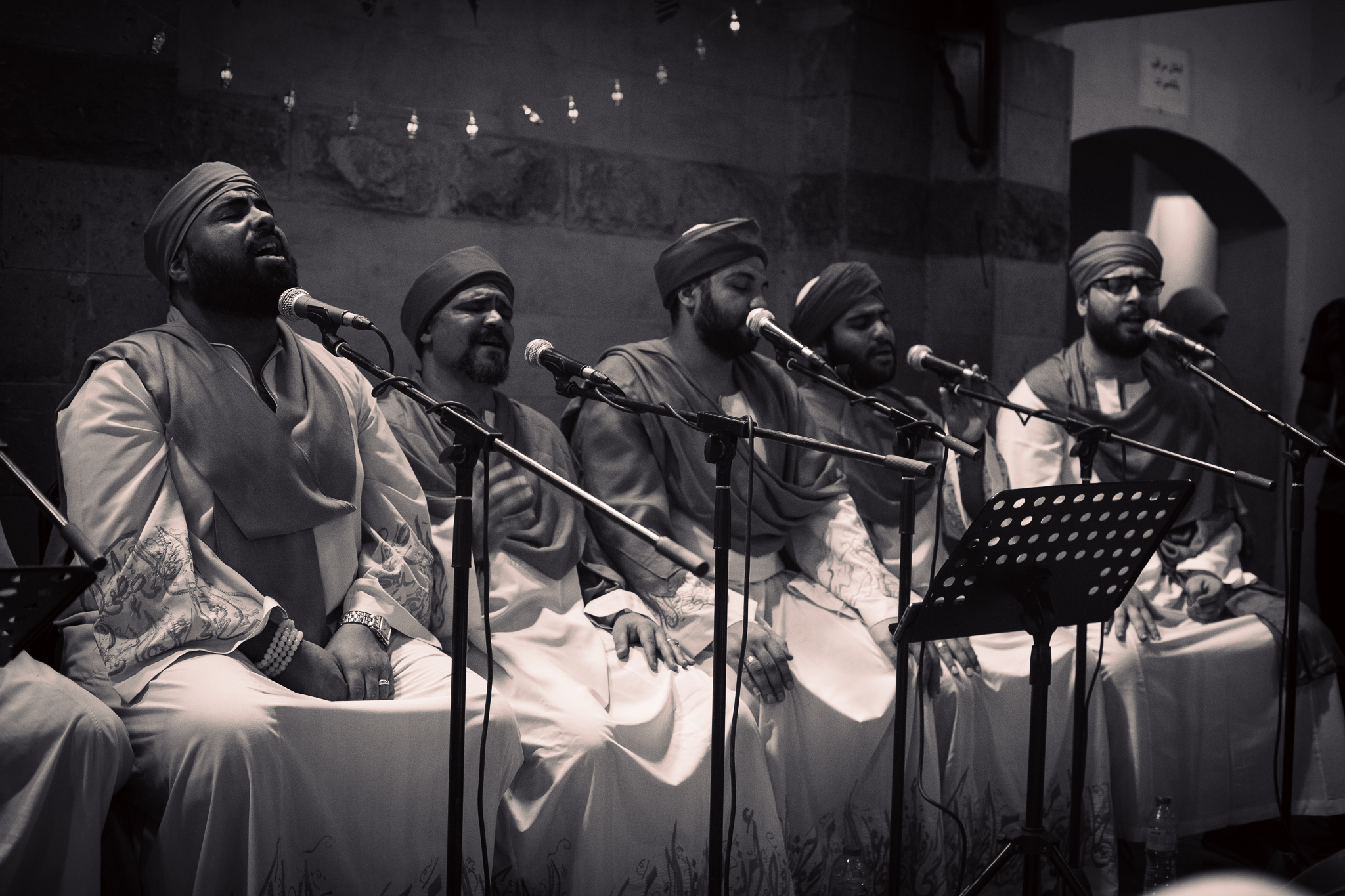 If we were to guess, you're probably wondering how any of this religious stuff relates to music (understandable). Take the case of your average hadraa; it's a religious tradition and ritual of sorts mired in all things Sufi, with talented chanters and hymnists reciting their faith in a uniquely harmonic manner. It was already an art form, but now that it's on stage, it can don the mainstream title of 'art', especially for those just looking for something that sounds nice. This was the dominating sentiment that led Nageh and his troupe-to-be to take their art form from mosque to marquee. "I managed to get my message through to people simply by telling them what I saw. Our heritage, our praises, hymns, chants and poems about our Sheikhs, our revered Sufi legends and characters, everything in song. It was too good to pass up."
Though the band was formed in 2015 out of Alrab3 Cultural Centre, the initial idea had gone into effect with members of the ensemble – Abna2 Al Turuq Al Sufiya – according to Nageh. They were then steadily joined by chanters they had previously performed with, and little by little, the ensemble was born. It had to go through as many steps as it did to turn out the way it did, and it's all built on the experience they'd made for themselves at the mosque.
For a troupe of only 14 performers – ten chanters and four instrumentalists – their production value comes off as something rather grand, even when heard on their SoundCloud or Youtube. Each voice in the ensemble is its own instrument, its own unique flavour in the stew, and when they all come together, it's unimaginably distinct from anything else you might have heard. Of course, having 14 members in a band – playing oud, kawala, daff and gambi - can get a bit hectic, and this was something that Nageh was all too aware of. However, his comment on the issue was quite the response. "I'm not going to lie; it can get pretty difficult managing all of it. But it's not just about the music, not at all; it's our praise for the one true God and his chosen Prophet that gives us the strength to soldier on despite the circumstances. Everyone in the ensemble love what they do, so anything that comes our way is just a test from god, and we've weathered it all so far."
One of the ensemble's members, Omar, gave us a bit more insight into the state of things. "I joined Alhadraa through a Facebook post by Nour. He wanted chanters for the band because he wanted to bring both our typical forms of praise with nasheed (or song). At first we just stuck to praise, because we needed a considerable few more people for there to be proper role assignment. People to chant, people to sing, people to play instruments and so on."
Aside from Omar's role as a chanter for the ensemble, he's also the group's writer/proof reader of sorts. He checks the group's poems and works for grammatical and/or linguistic errors, writes poetry in both colloquial and formal Arabic, and handles any editorial or press-related writings. Though these are all hefty tasks for one to bear, they're only secondary to Omar; he's a singer first and foremost.
As is expected, having a guy into all things syntax and linguistics can mean leaps and bounds for any musical venture, especially one whose 'subject matter' is rooted in rigid grammar. "I've noticed that a lot of big names and popular performers have a lot of significant language mistakes. Not only does it mess with the flow of a piece, but it disorients the listener and has them doubting what's right and what's wrong, instead of enjoying the music. There's nothing good about having no idea what you're singing about, and that's how it comes off with the lack of correction. How are you supposed to convey an experience through song if you barely have an idea of how to retell it right?"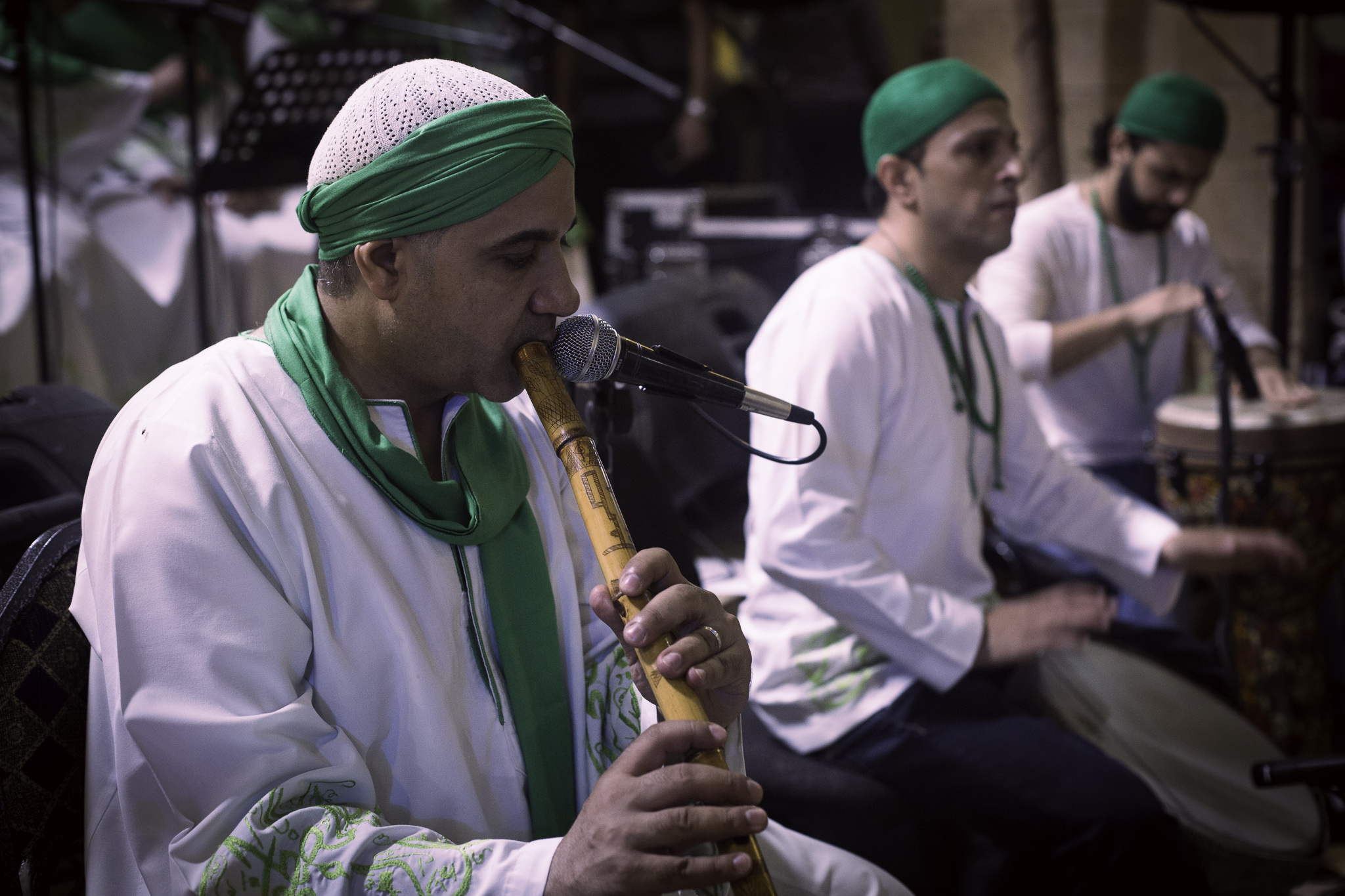 A few nifty perks come with the territory when you're rocking 14 members in an ensemble. Every performer has their own forte, each distinct from the other regarding skills and contribution to the grand scheme. "Nour, apart from being the founder of the ensemble, is the chief source of artistic inspiration we have. He actually knows a thing or two about performance. Sheikh Ashraf – a fellow chanter – has an extensive knowledge of the poems and pieces we draw from. So his impact with the writing is significant. As for myself, I handle the linguistics, and the same diverse role assignment goes for the rest of us. I think that's what makes 14 a lucky number for us, and it's not just about the production value or the exposure; it's the first time I've felt that I'm more than just a singer, and I feel the same applies to my band mates."
So a question presents itself; what criteria define what poems or pieces they'll use? Ashraf – a chanter and the 'chief selections officer' of the troupe – told us a bit more about the process. "You pick the ones your soul resonates with the most from the circles and bands you've participated with. I have a thing for my favourite poems from my childhood, and I remember always pestering the sheikhs about what the words meant, what the verses meant, what that was, what this was, etc. I still ask him questions today. It also matters that we pick the smoothest poems in terms of flow and simplicity for the audience. It all conveys our love for the Prophet, God, and his disciples."
So what constitutes the key differences between a chanter and an encomiast (a person who praises or flatters something publicly)? "The chanter delivers the poems in both song and word, but not much understanding or insight into the matter. They operate on a harmonic basis more than an encomiast. Encomiasts actually live the things they preach, they have an innate sense of intangible sympathy for the air the poems spreads. It's rare for a chanter and an encomiast to feel things on the same wavelength," said Ashraf.
As is customary with all things strutting down the line between religion and theatre, the Sufi singers are naturally on the firing line for all things accusatory and controversial almost all the time. "Most of these objections usually pool up on our social media, and it's usually one of two things. If it's a matter of seeking clarification, and if it's apparent that whoever's asking is looking for an actual answer, a message of sorts, we have a sit-down and hash things out. Some folks, though, cherry pick a couple 'suspect' words and start tossing accusations of blasphemy. We usually ignore those or just wish them God's blessing," Nour laments.
Luckily, the ensemble has a religious advisor from Dar Al Iftaa, Egypt's foremost Islamic institution dealing with religious edicts, typically present in any of the performances they hold. He handles people's questions regarding religious edicts, inquiries and the like, and to fight accusations that might defame the group. "We're just trying to spread nasheed." Nour commented. "It's not necessarily our job to educate the masses about religious matters."
As it stands, Al Hadra are working on documenting and cataloguing everything they have to offer and putting them all in an album. This, obviously, is a time-consuming process, doubly so given that they have neither a financial nor an artistic backing to lean on. All of the ensemble's members are independent units, relying only on themselves for all things financial, marketing-related or for support.
Despite these crutches, Alhadraa's audience grows steadily day by day, and with every event, newer and newer folks from all backgrounds, age groups and creeds come pouring in. "One of the many things that puts a smile on my face is looking at the people in front of me, " shares Omar – another chanter. "You can see a lot of variety on their faces, enough for you to see their emotional state in clear view. You can see what each word and verse does to their hearts and minds, watching their souls sway with the music. This is a pivotal aspect that enables me to enter the states of emotion I need to on stage."
Shoot by @MO4Network's #MO4Productions
Photography by Ali Bahr
Videography by Federico Corno
Original article on El Fasla: http://elfasla.com/ArtsAndCulture/interview-with-al-hadraa-band
Written by Heba Radi
Translated by Ahmed Ikram
Follow Alhadraa on Facebook.