You open a glass door, and see a man dressed like a band member in the heyday of post punk. Entering the store, the smell of old wood wafts up, and you feel it creaking under your feet. There are endless records; a world of infinite possibilities. From soul to hip hop, reggae to dub, breaks to acid house, house to techno and everything your musical mind (or the discipline that loves to place things in boxes) would envision. You'll most likely find others in the store who share your same musical taste, whether it is obscure kitten death metal, or jolly surf christian rock. Approaching a pile of records, having nothing in mind, you start flipping through them until you recognize your favorite label's logo. You take the record out of its sleeve to check its condition, and remove the dust with your t-shirt. You put it on the turntable, and lift the needle to place it on the wax. Crackles fill your ears...and the process repeats itself, until you find you've lost yourself in the store for hours.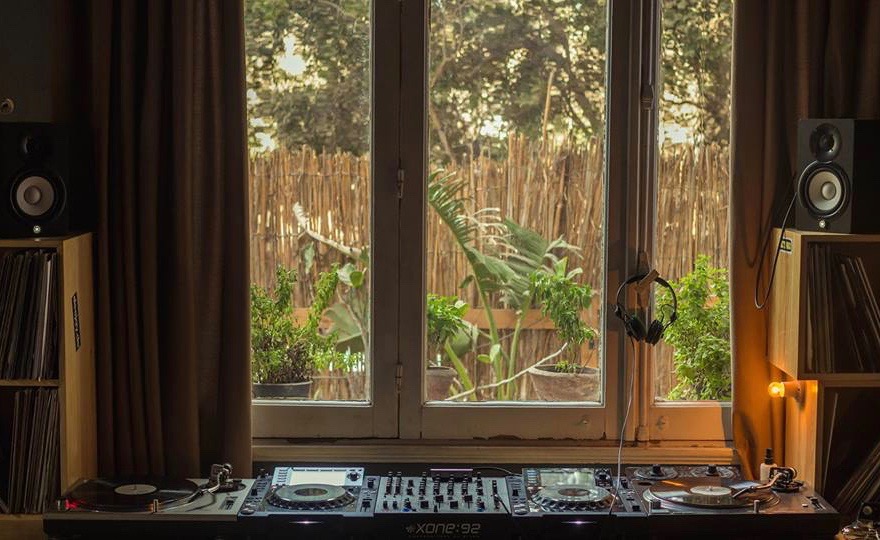 Sakanat - Egypt's First Record Store.
This is how digging for music felt at the time when record stores were the only option, until the explosion of the revolutionary digital era that allowed DJs to download libraries of music at the click of a button. This is when the relation between the music and the DJ was lost. No more touching the record, visualizing its waveform, and hearing its sound change over the span of time. It became all virtual.
Nowadays, in a time where the market has become saturated with DJs, it just takes a few parties to get one ambitious about spinning records and controlling people's minds with the help of a sync button. It might seem easy; connect your controller/USB drive, press play, et voila! You're riding the wave. The digital era has offered many things to the scene, and the ways to find music have shifted towards a more "virtual world." Fast forwarding Limewire, Napster, and Soulseek, people can now stream music with the help of applications like Apple Music, Spotify or any other streaming apps. They can also identify a song they hear at a club with apps like Shazam, that for some, is the digital era's trainspotting (the act of starving over a DJ's shoulder to see what records he is spinning). The number of music identification groups have taken over Facebook, and the phrase "ID please?" has become the most used among music enthusiasts on social media. Some people consider it an acceptable product of the times, while others find it unethical and rude. "Digging for music that pretty much everyone else plays is not THAT difficult. It just takes time to find. Lazy." Said the Scottish DJ Jackmaster in a Facebook post.
Fortunately, with the huge rise in the number of DJs, some have put this technological advancement to creative use, exploring new possibilities, while others just focus on taking their game to the next level in a very simple way: track selection. I personally wouldn't care less if a DJ has four faders up, but sounds like shit. It is not about showcasing the technical abilities, but about the choices you make, the taste you have, and the flow you set on the dance floor. The only thing that matters is a DJ who knows his craft and does it artistically. This is why DJs have always wanted to update their collection with tracks that are not out there, tracks that make their sets special. And just so you know, these tracks are not in the charts.
In the middle of all this, dedicated musicians started shifting again towards the old-school direction, and vinyl sales have increased again, hitting a 25 year high, while others continued scouring the same digital pathways. It actually doesn't matter as long as the music is good. In a country like Egypt that didn't have a proper record store until late last year, DJs dig for their music online, on platforms that emulate the record shop experience (Discogs, Deejay.de), and they always delivered kickass music.
We sat down with some of Egypt's veteran DJs: Ahmed Samy, Baher, and Saleh Amin, who is also the owner of Egypt's first record store - Sakanat. They laid bare their ways of digging for music, and revealed their opinions on crate digging and trainspotting.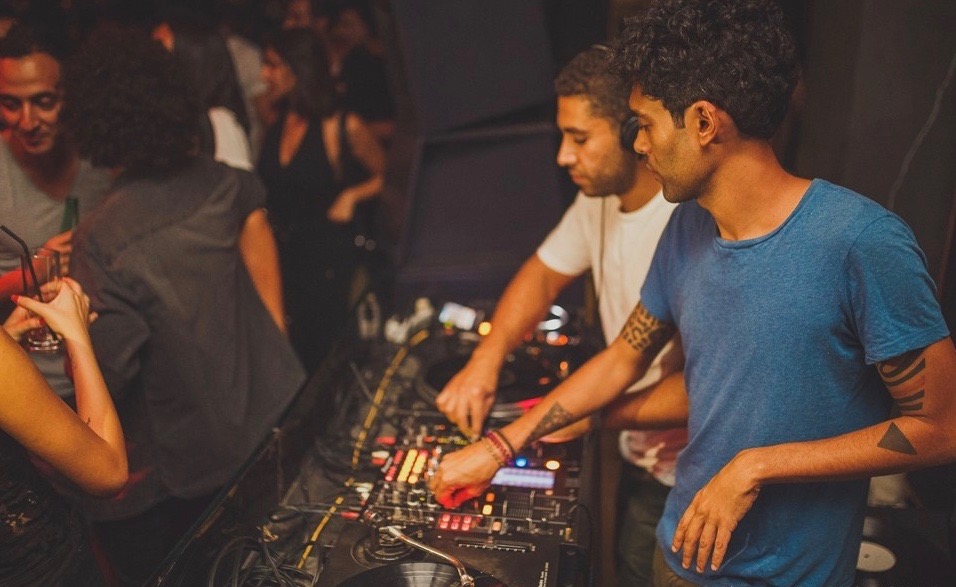 Ahmed Samy (No Name) playing @ Zigzag.
Where do you look for music?
Ahmed Samy: Online (favorite is Viniil.com). It is because Francesco, the owner, is really hands on and creates this personal experience, which is pretty much like walking into a record store and chatting with the shop owner.
Saleh: I use Discogs, Juno, Deejay.de and Beatport.
Baher: I take my time to dig for music since there are many different platforms and it's endless how many good tracks are out there over the last 3-4 decades. So many records out there are either hidden, only in vinyl format, or simply forgotten. I usually dedicate 1-2 times a week listening to old and new mixes, checking online record stores such as Deejay.de, Juno, RA, and lastly if it's a bad day, Beatport.
What do you think of the current crate digging vinyls trend?
Ahmed Samy: I am not sure why it is gaining popularity, but it definitely is the better selection and sound that are the main reasons of why people are choosing vinyl.
Saleh: Well in Egypt it is picking up fast, but it is only done online. Soon there will be an actual record store for people to go digging for records, such as Sakanat Studio - Record Store located in Maadi inside Bardo Clubhouse.
Baher: I think it is safe to say that there definitely is a growing minor community in Egypt who have been, or started collecting records, and it is quite recognizable the last few years. Personally, I am really over that vinyl versus digital trend. As long as the music is good and quality tracks, then just do your thing. Reasons why I buy records is to download vinyl-only tracks that are not available in digital format which ultimately makes it harder to hear the tracks anywhere else and also makes it more special. Or I could choose to buy a classic record off Discogs as a collectable instead of digital, which is exactly the same as a film geek who would rather pay for the movie JAWS in a Blu-ray Steelbook instead of downloading the MP4 off the internet. It's a choice…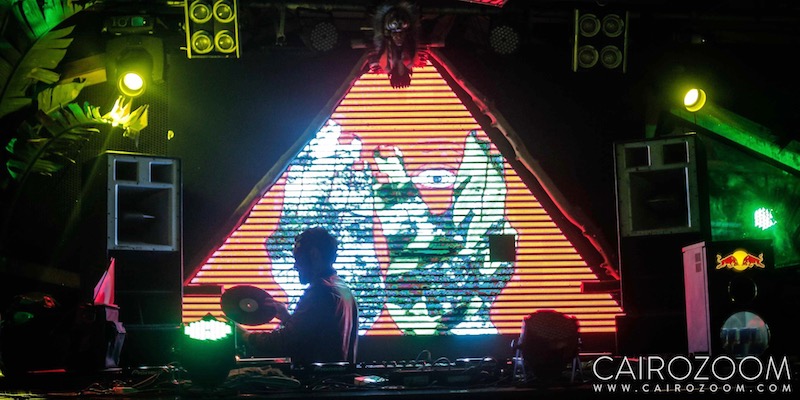 Baher playing @ Origins X.
Do you look for music in the charts?
Ahmed Samy: I try not to.
Baher: From time to time.
Saleh: Yes, you can still find some good music in the charts but they will not be hidden gems for sure.
Do you think it's "ethically wrong" for a DJ to play Shazamed music? And would you be offended or annoyed if someone Shazamed a song while you're playing a set?
Ahmed Samy: I think it is fine, depends on how you play these so called "Shazamed" tracks really. It really comes across when your heart is in it, as opposed to choosing to DJ for superficial reasons.
Saleh: Yes it kind of is, because the DJ playing this track has put a bit of effort into finding it. But still you can do whichever you want to do, it's always about how you play it as a DJ. You can shazam a track Sonja Moonear played but you will never pull it off the way she does - same goes with every other DJ. So not really, it just means he really likes the track I am playing.
Baher: I think back when I was very young I used to keep music to myself as it was more exclusive that way. But I believe music is made to be shared so if technology gives you the freedom to connect and identify the tracks being played in a club, then use it! I remember DVS1 saying in an earlier interview something down the lines of, "if someone asks me about the name of a track, I would rather give them the name of the label so they'd check their catalog and most importantly give them a chance to get more familiar with the label's earlier work." Maybe you'd find other great tracks, no? That works for me.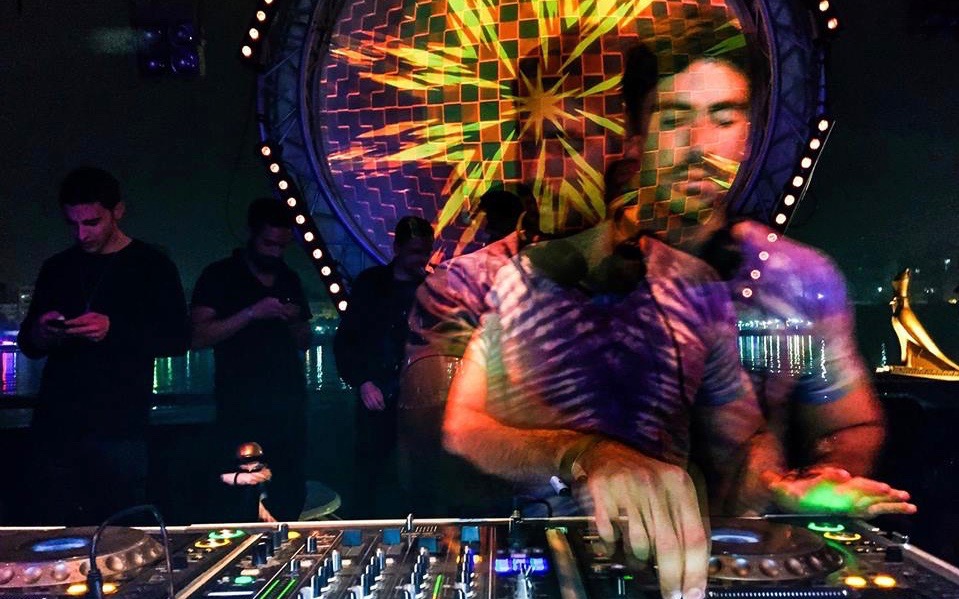 Saleh Amin - Sakanat Record Store Co-owner playing @ Zigzag
Have you ever heard another DJ playing one of your hidden gems? How did it feel?
Baher: Most of the times I would go up to them and say "Nice track" :)
Saleh: Yes sure. Not that bad, it just means we both have the same taste so potential B2B. But it can also mean I need to dig harder and find more hidden gems.
Samy: It feels good as I am sure we will both play it differently, always happy to discover and curious to see what other DJs are playing and how they're playing. I'm always learning from the different techniques of other DJs locals and internationals.
Follow Baher on SoundCloud.